Wachtell, Lipton, Rosen & Katz was the leading legal adviser globally for mergers and acquisitions in 2019, according to GlobalData.
The American law firm advised on 76 deals worth $689.3bn (up 43.96% year-on-year) including the biggest transaction: Bristol-Myers Squibb's acquisition of Celgene for $89.5bn.
Wachtell, Lipton, Rosen & Katz secured second position in GlobalData's 2018 rankings, having advised on 85 deals worth $474bn.
GlobalData published the top 20 league table of legal advisers ranked according to the value of announced deals globally.
Kirkland & Ellis was second in the global league table for 2019, with 570 transactions worth $523.3bn (up 58.32% year-on-year).
Ravi Tokala, financial deals analyst at GlobalData, said: "Wachtell, Lipton, Rosen & Katz emerged as the top legal adviser in 2019, even though the firm advised on only 76 deals, which was the third lowest number among top 20 advisors, mainly driven by its involvement in 16 megadeals (>$10bn) among 36 deals recorded.
"Despite advising on the highest number of deals, Kirkland & Ellis ranked second, as the firm was involved in low-value transactions and less megadeals."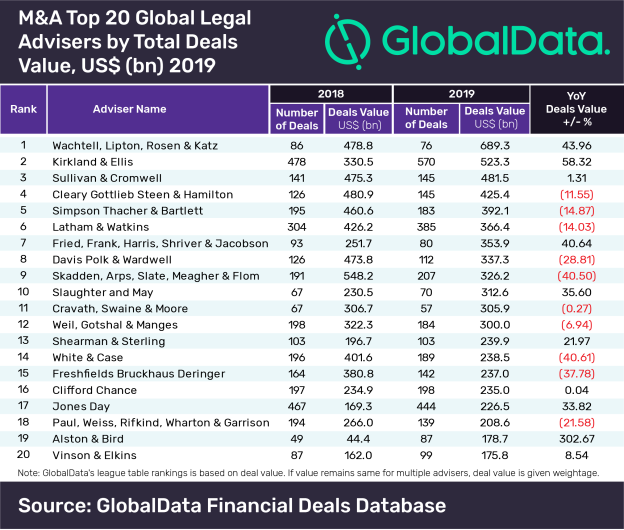 Sullivan & Cromwell was in third place having advised on 145 transactions worth $481.5bn (up 1.31% year-on-year) and Cleary Gottlieb Steen & Hamilton took fourth place with 145 deals, but worth $425.4bn (down 11.55% year-on-year). With 183 deals worth $392.1bn (down 14.87% year-on-year) Simpson Thacher & Bartlett took fifth position in the league table.
In terms of deal volume, Kirkland & Ellis topped the table with 570 deals, followed by Jones Day with 444 deals worth $226.5bn.
In 2019, 57,391 deals were recorded globally, marking a 21.55% increase from 2018.
To ensure further robustness to the data, the company also seeks submissions from leading advisers, through adviser submission forms on GlobalData's website.