Goldman Sachs was the leading financial adviser globally for mergers and acquisitions in 2019, according to GlobalData.
The American bank advised on 339 deals worth $1,174.5bn (up 7.36% year on year) in 2019, including the big ticket deal of United Technologies' acquisition of Raytheon.
GlobalData has published a top 20 league table of financial advisers ranked according to the value of announced M&A deals globally.
JP Morgan took second place with a total deal value of $987.3bn (down 3.88% year-on-year) from 298 deals it advised on in 2019. The American bank bagged the second position in GlobalData's 2018 rankings, having advised on $1,020.8bn worth of deals.
In third position was Morgan Stanley, which worked on 258 deals in 2019 as against 286 deals in 2018.
Citi and Evercore secured fourth and fifth positions, having worked on 217 deals worth $723.8bn (up 3.09%) and 172 deals worth $621.4bn (up 64.67%), respectively.
Goldman Sachs and Rothschild & Co led the chart in terms of volume, advising on 339 deals and 331 deals, respectively in 2019.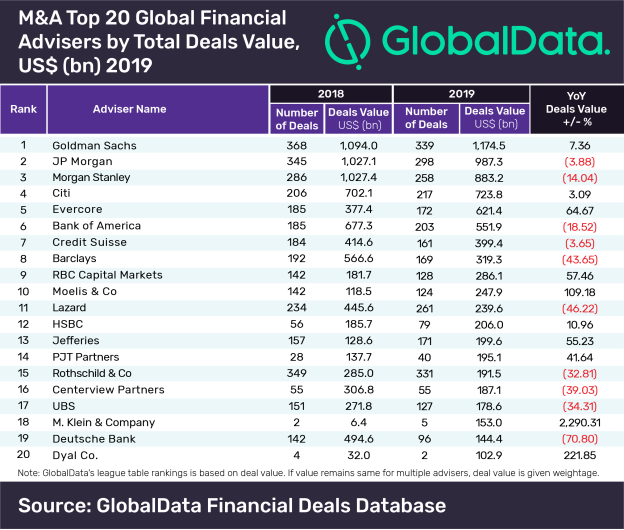 Ravi Tokala, financial deals analyst at GlobalData, said: "Goldman Sachs, with a 7.36% growth in value terms compared with 2018, emerged as the clear winner both in terms of value and volume. Among the 36 megadeals (>$10bn) recorded during 2019, the American investment bank advised on 25 deals and crossed $1tn worth of deals, maintaining a significant lead over the rest of the top 20.
"The value of the deals handled by JP Morgan and Morgan Stanley went down by nearly 3.88% and 14.04%, despite advising on 18 and 15 megadeals, respectively."
In 2019, 57,391 deals were recorded globally, marking a 21.55% increase from 2018.
To ensure further robustness to the data, the company also seeks submissions from leading advisers, through adviser submission forms on GlobalData's website